The United Arab Emirates, also known as the UAE or the Emirates, is a preferred destination for expatriates due to its simplified visa requirements compared to other Middle Eastern countries.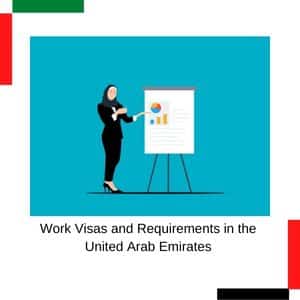 This makes it an excellent option for companies looking to expand their international presence. However, like any other country, the UAE has specific rules and regulations that must be followed regarding immigration, residence visas, and work permits.
What Types of Work Visas in the United Arab Emirates
The UAE government recently implemented new immigration regulations, which include several new categories of residency permits for work. These categories include:
Residence permits for contractual employment: An employer-sponsored resident permit that requires approval from the Ministry of Human Resources and Emiratization (MOHRE) along with an employment contract.
Green Visa: A 5-year self-sponsored residence permit for investors, highly-skilled workers, and freelancers.
What Requirements to Obtain UAE Work Visas
To obtain a residence visa in the UAE, employees will need to provide the following documents:
A valid passport and its photocopy
Passport photos
An Emirates ID card
An entry permit from the Ministry of Labor
The results of a medical screening
A copy of the employer's company card
A copy of the company's commercial license
After obtaining a residence visa, employees can apply for a work permit. To obtain a work permit, they will require all the documents listed above, a work permit application form completed in Arabic, and an employment contract or job offer from a company in the UAE.
Ho to Application Process
It may be helpful to consider the process of obtaining a UAE work permit in three stages:
Obtaining an employment entry visa: Also known as a pink visa, the employer must apply for visa quota approval on behalf of the employee through the Ministry of Labour (MOL). The prospective employee must sign the employment contract submitted by the employer to the MOL. Before issuing an employment entry visa, the Ministry must approve the work permit application. Once the approval and visa are obtained, the employee will have two months to enter the UAE. If foreign nationals are unable to travel to the UAE within the first 60 days, they may apply for an extension of an additional 60 days as of February 2023, which is available for all types of visas but is only available once.
Getting an Emirates ID: An Emirates ID is mandatory for the medical screening employees need to undergo to apply for a residence visa. To apply for an ID, the employee must provide their entry visa along with an original passport and a copy. Employees must apply in person at the Emirates Identity Authority (EIDA) center, where they must provide biometrics, including fingerprints and a photograph.
Obtaining a residence visa and work permit: To apply for a residence visa, the employee will need all the required documents listed above. A residence visa for contractual work in the UAE is valid for up to two years (formerly three, but reduced in October 2022) and can be renewed. The employee's work permit will be listed as part of the residency visa, and once the work permit is approved, the employee can officially commence working.
Attention – Other Important Considerations
One important factor to consider while working in the UAE is that work permits must be sponsored by an entity that is locally licensed and incorporated in the UAE. This requirement can make the process more complex for companies that are in the early stages of global expansion.
If your company does not have an established presence in the UAE, you can work with a global PEO as the Employer of Record in the UAE. Employees may also wish to bring their family members to the UAE, and they can sponsor residency visas for them once they've received their resident visa.
Reference
Hi, I'm Sharif and this is my website where I offer information and advisory services in the United Arab Emirates. I invite you to read and comment on my articles. If you want to know more about my visit, about me .